Steps on How Tinubu Plans to Disburse /Pay N8,000 Palliative to 12M Nigerians – This article shows how Tinubu through the Federal Government of Nigeria on how he plans to disburse or pay N8,000 to 12 million households or Nigerians. President Tinubu payment plan of N8,000 is out and all needs to see he or she would receive the payment at earnest.
Steps on How Tinubu Plans to Disburse /Pay N8,000 Palliative to 12M Nigerians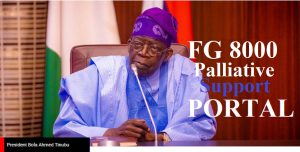 Following President Tinubu letter to the House of Representatives, on the cash transfer of N8000 to 12 million families over a period of six months to ameliorate the hardships faced by Nigerians as a result of subsidy removal, Mr president has agreed that Each state should plan towards implementing a cash transfer programme based on the social register of the state.
The decision was made today the 20th of July 2023 during its meeting at the Council Chambers of the State House in Abuja, NEC decided that cash transfers would be done using state social registers.
Inline with that, the FMHDSD office responsible for building the National Social Register of Poor & Vulnerable Households who also coordinates #SocialProtection programs in Nigeria says that the National Social Register is an aggregation of state registers built by each of the 36 states + FCT.
States build the register using a Community Based Targeting approach undertaken by targeting teams & enumerators engaged by states & overseen by their ministries of planning.
This simply means that while the states disburse the find, the Federal Ministry of Humanitarian Affairs monitor the process.
One of the reasons why they decided to let the States to disburse the fund is because they identified that states are different from one another and therefore have different peculiarities.
President Tinubu said the initiative was aimed at helping poor and vulnerable Nigerians cope with the cost of meeting basic needs.
The cash transfer is different from other National social intervention programs NSIP like the Npower, GEEP, and NHGSFP.
The Npower, GEEP, and NHGSFP program might continue to run under the Ministry of Humanitarian Affairs.